Yominum sulfide
Discuss

1
36,872pages on
this wiki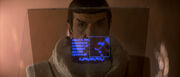 Yominum sulfide is apparently a chemical, with a molecular formula of K4Ym3(SO73Es2), that presumably forms crystalline structures.
When Spock was performing a memory test, one of the questions asked him what the molecular formula for yominum sulfide was. (Star Trek IV: The Voyage Home)
As the formula is known to be inconsistent with those of known sulfides, the substance may not even exist—and the very memory-test question itself might have been a trick question in that case.