Trekkies 2
Discuss

4
38,272pages on
this wiki
DVD release
No. of discs:
1
Director:
Roger Nygard
Region 1 release date:
31 August 2004
Region 2 release date:
20 January 2005 (Germany)
7 March 2005 (UK)
Rating(s):
Subtitles:
English
Reference:

ASIN B0002I83SG

(region 1)


ASIN B0007513VI

(region 2 UK)


ASIN B0006UU04A

(Germany)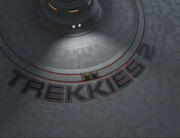 Trekkies 2 is a docu-comedy released in 2004 starring Denise Crosby. It is the sequel to Trekkies.
The tone of the film is somewhat different than the first Trekkies, being slightly more respectful and less exploitative. For example, there are interviews with fans who are made to appear more "normal", and fans outside the USA are shown. The movie features reactions from fans regarding some of the more controversial aspects featured in the first film. There is a more balanced portrayal of the woman who attended a trial in her Starfleet uniform, making her appear more intelligent and rational than many of the "normal" people around her. There is also more respectful attention paid to the art of filk music, in what appears to be an apology for its brief (and humiliating) appearance in the first film.
Trekkies 2 includes interviews with (comments from) many Star Trek production personnel and cast including Vaughn Armstrong, Casey Biggs, John Billingsley, Brannon Braga, Lolita Fatjo, Michael Forest, Richard Herd, Dominic Keating, Cirroc Lofton, Phil Morris, Ethan Phillips, Tracy Scoggins, Connor Trinneer, Nana Visitor, Gabriel Koerner, and others.
The film shows fan film production in Germany and Minnesota, visits FedCon XI, and interviews members of Trek fan clubs from around the world including Unification in France, USS Brazil, and the Serbian Society for Science Fiction.
It also visits the Star Trek tribute band scene in Sacramento, California, featuring No Kill I (a reference to TOS: "The Devil in the Dark"), Stovokor (named for Sto-vo-kor), and Warp 11 (a possible Star Trek / Spinal Tap reference).
The film features an interview with Tony Alleyne, a fan from the UK who remodeled his apartment based on a Star Trek theme. At the time of filming, it was listed on eBay where he was asking US$2,000,000. In 2007, two years after the film's release, he sold it for £425,000 (about US$839,000). He had originally purchased the apartment in 1994 for £27,000. (BBC news videowbm)
External links
Previous movie:
Trekkies
Trekkies Movies
Next movie:
Last in series