The Gateway
Discuss

0
36,854pages on
this wiki
Deletion
Deletion has been suggested for this page according to the deletion policy. In the normal day-to-day operations of Memory Alpha, some pages are deleted for various reasons. This deletion suggestion and reasoning can be discussed on: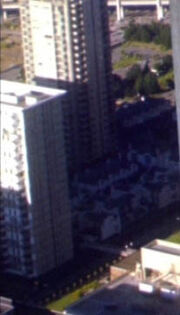 The Gateway was a complex of apartments and townhomes that existed as early as the late 20th century in San Francisco.
In 1986, as the HMS Bounty flew into the city, The Gateway was briefly visible in the ship's viewscreen. Later, this complex was seen when Hikaru Sulu flew a helicopter over San Francisco Bay. (Star Trek IV: The Voyage Home)
In the alternate reality of 2259, The Gateway escaped destruction when the Vengeance crashed into the city. (Star Trek Into Darkness)
In an alternate timeline, the complex still existed in the early 25th century. (VOY: "Endgame")
Since that timeline diverged in 2378, it presumably still existed at that time in the main timeline as well.
This complex consisted of four skyscrapers - VistaNorth, VistaSouth, VistaEast, and VistaWest - that towered over the townhomes.
External link
Edit