Tenforward
Discuss

2
35,793pages on
this wiki
Template page
Forums → Tenforward
STOP!  Read the following before you post for the first time:
On Memory Alpha, Ten Forward is a forum where the members may gather to discuss various issues concerning the policies and operation of the wiki. It is not a place for idle conversation or off-topic discussion that doesn't directly concern Memory Alpha. You can use our IRC chat room for discussions like that.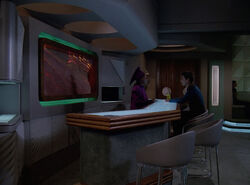 The following types of questions do not belong in Memory Alpha's Ten Forward:
Please remember to sign and date your posts by typing four tildes ("~~~~") or clicking
the signature icon (

) in the edit toolbar.