TNG Season 2 Blu-ray
Discuss

0
38,279pages on
this wiki
Region A cover
Blu-ray Disc release
Series:
Star Trek: The Next Generation
Season:
2
No. of episodes:
22
No. of discs:
5
Run time:
998 minutes
Region A release date:
4 December 2012
Region B release date:
10 December 2012
Rating(s):
Language:
English
Subtitles:
English, French (region A)
French, German, Swedish, Danish, Norwegian, Finnish, Dutch, Italian, Spanish, Japanese (region B)
Dubbed:
French (region A)
French, Italian, Castillian, German, Japanese (region B)
Reference:

ASIN B0095XPZBC

(region A)


ASIN B0095H9F8M

(region B/free)

Region B cover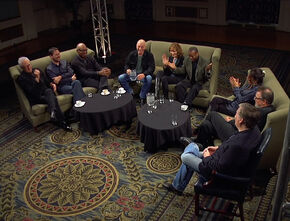 Star Trek: The Next Generation - Season Two is a Blu-ray Disc release, featuring the complete second season of Star Trek: The Next Generation in 1080p high-definition. The set was released in North America on 4 December 2012, [1] and released in the United Kingdom on 10 December 2012. [2] The Season Two remastering work was completed by HTV Illuminate, supervised by Dan Curry, Denise Okuda, and Michael Okuda. [3]
The set features a sixty-minute roundtable interview with the entire Next Generation principal cast (save Denise Crosby), as well as a new interview with Diana Muldaur (Katherine Pulaski), the first post-TNG interview with the actress to appear on a home media release. [4]
The archived interview with Muldaur on the TNG Season 2 DVD was from September 1988.
Theatrical showing
On 29 November 2012, the week before the set was scheduled for release in the North America, movie theaters across the United States held special showings of "Q Who" and the extended edition of "The Measure of a Man", along with a cut-down portions of the Blu-ray documentaries.
Restoration of cut footage
A significant amount of original footage was cut from "The Measure Of A Man" during editing, but was restored for the Blu-ray release. The "extended edition" features an 57-minute version of the episode, containing approximately thirteen minutes of restored scenes and visual effects. [5] [6] The set also contains deleted scenes from two other episodes ("The Icarus Factor" and "Up The Long Ladder"). [7]
Disc contents
Disc

Episode

1

Special Features
Archival Features

2

Special Features

3

Special Features
Archival Features

Inside Starfleet Archives (2002)
Selected Crew Analysis (2002)

4

Special Features
Archival Features

Memorable Missions (2002)

5

Special Features

Episodic Promos
Reunification: 25 Years After Star Trek: TNG
Making It So: Continuing Star Trek: TNG

Part 1: Strange New Worlds
Part 2: New Life and New Civilizations

Archival Features