Steve Gallacci
Discuss

0
37,240pages on
this wiki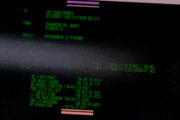 Steve Gallaci was a Human Starfleet officer of the mid-24th century.
He served aboard the USS Robert Louis Stevenson as a professor before being reassigned to the USS Discovery on stardate 41004.2. (TNG: "Conspiracy", okudagram)
Steve Gallacci might have been named after the comic writer Steve Gallaci. One of his creations, Erma Felna, would have her name appear on a mission order as a Starfleet admiral.