Star Trek Nemesis (DVD)
Discuss

0
38,268pages on
this wiki
Region 1 cover
DVD release
Series:
Star Trek films
No. of discs:
1
Director:
Stuart Baird
Region 1 release date:
20 May 2003
Region 2 release date:
11 August 2003 (UK)
23 July 2004 (Japan "Special Can" edition)
Rating(s):
Reference:

ASIN B00005JLRT

(region 1)


ASIN B00006FMGL

(region 2)


ASIN B0002886WY

(region 2, Japan "Special Can" edition)
Year:
2379

Region 2 slimline cover

Main menu
Star Trek Nemesis was the last of the "basic" movie DVD releases. Unlike the previous releases, the DVD contained some special features.
The Region 2 UK release came in a holographic slipcase. Oddly, the disc and insert portrayed Jean-Luc Picard in a TNG-style Starfleet uniform.
Chapters
Chapter
Title
Chapter
Title
Chapter
Title
Chapter
Title
1
Conspiracy
7
Predator
13
Escape
19
Brace For Impact
2
Blue Skies
8
Praetor Shinzon
14
Rate Of Decay
20
Worth Dying For
3
Positronic Signature
9
Allegiance
15
Battle Stations
21
Face Of The Enemy
4
Unsafe Volocities
10
Not Quite Human
16
But Through A Glass Darkly
22
Journey's End
5
Sailing Into The Unknown
11
Violation
17
Romulan Assistance
23
New Horizons
6
Memory Download
12
The Echo Over The Voice
18
Remember Me?
24
Credits
Special Features
Documentaries

New Frontiers: Stuart Baird on Directing "Nemesis"
A Bold Vision of the Final Frontier
A Star Trek Family's Final Journey
Red Alert! Shooting the Action of "Nemesis"
Deleted Scenes
Photo Gallery
Special Edition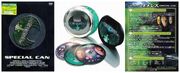 In Japan (region 2), this edition saw a three-disc "Special Can DVD Box" release in 2004, limited to 5,000 copies. Apart from the feature and the special features (each on a separate disc), a third disc was included containing the episodes:
The release was packaged in a circular hard plastic standing disc holder, supposedly a desktop ornament.
See also