Star Trek: The Official Starships Collection
Discuss

6
37,199pages on
this wiki
Star Trek: The Official Starships Collection is a British partwork magazine produced by Eaglemoss Collections and is published in a number of countries worldwide.
Each fortnightly issue includes a twelve to fourteen centimeter-long scaled replica of a starship from the Star Trek universe. Utilizing original studio models for reference wherever they are available, these ABS plastic and die-cast zamac models are designed by Adam Lebowitz. The project is managed by Ben Robinson.

Each accompanying magazine has twenty pages and features articles about the design, filming, and on-screen appearances of the original studio model. Detailed "in-universe" information about the vessel's crew, weapons, and technology is also included. An online version of each magazine is also made available to subscribers.
Special Issues
Edit
Eaglemoss announced that it had received licensing to release starships from Star Trek's alternate reality as "special issues", alongside "special" starships and space stations from Star Trek's prime reality. They are larger than the regular starship models and retail at roughly twice the price.
The company hoped to release them quarterly and has also made them available to retailers. In the future, some models may incorporate moving or separating parts, unlike the fixed-in-position regular releases. The company may release additional starship dedication plaques as special issues in the future.
Gift Premiums
Edit
Gift premiums (known here as "loyalty gifts") have been released to UK subscribers. These include a binder for holding the magazines, a cast resin USS Enterprise-D dedication plaque, a three-nacelled USS Enterprise-D model, and a battery-powered, LED-lit plastic Borg Cube.
Japanese subscribers will receive a unique 80 mm long Borg Cube, approximating the television version, instead of the regular release which approximated the movie version. This cube may be made available for retail release outside of Japan at a later date. A USS Enterprise Command division key ring gift will be released by De Agostini exclusively in Japan. Japanese subscribers will not receive free magazine binders.
Magazine binders have been released to retail. The other gift premiums may be made available for retail sale in the future.
For American and Canadian subscriptions, the gift premiums are scheduled for much later subscriber milestones than is the case for most other territories.
Issue
Cover
Premium
Photo
Length
Scale
1
N/A
Magazine Binder
300 mm
N/A
2
N/A
USS Enterprise-D dedication plaque
210 mm
1:2
3
N/A
Future USS Enterprise-D - "

All Good Things...

"
139 mm
1:4610
4
N/A
Borg Cube
150 mm
1:20600
5
N/A
USS Enterprise Command Division (TOS) Key Ring - Japan exclusive
45 mm
N/A
Marketing
Edit
UK test marketing
Edit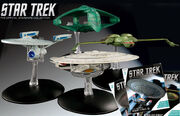 The first five issues were test-marketed at retail in England's South West region beginning in May 2012. The company's website also began to solicit UK subscriptions at that time. Due to unexpected heavy demand and the resulting production and distribution issues, new subscriptions were suspended at the end of July 2012.
Upon receipt of the first five issues, subscribers were advised that the magazine had been suspended and that confirmation of forthcoming issues from the publisher was pending. Free gift premiums were not distributed to subscribers. This type of early "test release" is a common practice for partwork publishers.

UK and Ireland marketing
Edit

In September 2012, a Facebook page was established for the magazine and Eaglemoss subsequently announced that a full UK roll-out of the line was slated for February 2013. New subscriptions resumed on 17 September 2012 and the company confirmed that gift premiums and more issues were forthcoming.
The company has plans for seventy issues and displayed a provisional list at the Destination Star Trek London convention in October 2012. Residents of the Republic Of Ireland were added to the UK subscriber base in early 2013.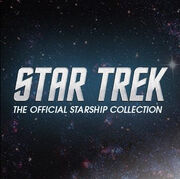 On 9 January 2013, the company announced that the line would be indefinitely placed on hiatus until a new manufacturer was found, following the closure of their contracted production facility by Chinese authorities.
In early April 2013, Eaglemoss sent emails to subscribers stating that the line was back in production and would resume shipping in August 2013. This relaunch date was confirmed on the line's newly redesigned website in May 2013 and the first issue was re-released on 21 August 2013.
Since the provisional list was first shown, a number of possible additional issues have been identified by the line's project manager through social media.
Provisional List Of Issues
Edit
SPECIALS
Additional Ships On Promo Poster
Edit
Additional Ship In Magazine
Edit
Additional Provisional Issues Identified On Social Media
Edit
Special Issues
Edit
International marketing
Edit
In Japan, the line is published and distributed by De Agostini and carries its imprint on the cover. The first six issues were released in 2012 as a test marketing run, similar to the UK's initial test release. De Agostini's subscriber website went live in April 2014, and the first issue was released on 20 May 2014.[1]
In May 2013, the company launched their US website and American subscribers began to receive issues in October 2013. The line was also made available for retail sale by US retailers affiliated with Diamond Comic Distributors, Inc at the same time.
The line was made available to Canadian retailers through Diamond Comic Distributors, Inc. commencing in August 2013 and issues began to reach shops in October 2013. The subscription website went live on 25 January 2014 and issues began to reach subscribers in early May 2014.
In February 2014, the first German-language issue reached retail, a website was launched, and Interabo GmbH began to distribute the magazine. The magazine and website have not yet been promoted or advertised by Eaglemoss as this release is a test marketing run, similar to the line's initial roll-out in the UK and Japan. In April 2014, a letter appeared with the fifth magazine stating that further issues had been temporarily placed on hold, pending further word from the publisher. In late May 2014, the company's Facebook page indicated that the line would fully launch in Germany "soon".
Australia
Edit
Early issues began to reach retailers in Australia beginning in December 2013. Commercials for the national release of the magazine began to appear on television in February 2014 and an Australian subscriber website went live shortly thereafter. Subscriptions and wide retail availability commenced on 31 March 2014. Bissett Magazines Pty. Ltd. distributes the line.[2][3]
New Zealand
Edit
Early issues began to reach some retailers in New Zealand beginning in December 2013. In April 2014, printed advertising for a forthcoming website and subscriptions appeared but specific details have not yet been announced. Netlink Subscriptions, a division of Netlink Distribution Co. Ltd., will be distributing the line. [4]
The Rest of the World
Edit
The company also stated that it hoped to release the line in other territories in 2014 but did not offer specific dates or countries. The magazines list additional details for South African, Malaysian, and Singaporean distribution. Retailers in a number of countries have imported issues of the magazine.
See also
Edit
External links
Edit