Ship in a bottle
Discuss

0
37,582pages on
this wiki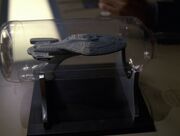 "Ships in bottles. Great fun."
A ship in a bottle was a type of model ship placed inside a bottle. Constructing such ships was a hobby amongst some Humans.
In 2366, Captain Jean-Luc Picard referred to the Promellian battle cruiser Cleponji to Commander William T. Riker as "the ship in the bottle." The reference was lost on Riker, as well as on Lieutenant commander Data and Lieutenant Worf, none of which had built ships in bottles as children, like Picard. Transporter Chief Miles O'Brien, however, replied that he had built them, describing the practice as being "great fun." (TNG: "Booby Trap")
Lieutenant Joseph Carey was building a model of the USS Voyager, the ship to which he was assigned, in a bottle up until his death in 2378. At the time of his demise, he had almost completed the model and only had one nacelle left to finish. (VOY: "Friendship One")
This was a modified and repainted Christmas ornament released by Hallmark in 1996.
External link
Edit