Sam Freedle (Doctor)
Discuss

0
37,629pages on
this wiki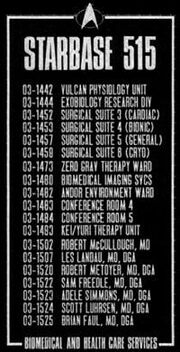 Sam Freedle was a Human of the mid-24th century.
By 2365, he had earned his MD and a DGA certificate. In that year, he was a resident of Starbase 515. At the base's hospital, his room number was 03-1522. This doctor was listed on the directory for biomedical and health care services. (TNG: "Samaritan Snare", set artwork)
This individual appears to be named for unit production manager Sam Freedle.