Salli Elise Richardson
Discuss

0
38,277pages on
this wiki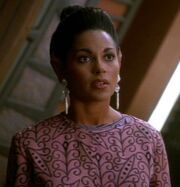 Salli Richardson-Whitfield (born 23 November 1967; age 47), formerly known as Salli Elise Richardson, is the actress who played Fenna/Nidell in the Star Trek: Deep Space Nine episode "Second Sight". Mark Gehred-O'Connell, the writer of the episode, commented on Richardson: "I couldn't have imagined anyone better to play the woman of Sisko's dreams". (The Official Star Trek: Deep Space Nine Magazine Vol. 10)
She voiced Elisa Maza in Gargoyles, which also featured the voices of Jonathan Frakes, Marina Sirtis, Michael Dorn, Avery Brooks, Kate Mulgrew, Gerrit Graham, Nichelle Nichols, Brent Spiner, Colm Meaney, David Warner and Paul Winfield.
She played Elizabeth Watts in an episode of Castle, the sister of Victoria Gates, played by Penny Johnson.
Richardson-Whitfield is best known for her role as Dr. Allison Blake in the Syfy television series Eureka (2006-2012) and has also guest-starred in other popular shows such as Stargate SG-1, CSI: Miami, NYPD Blue (with Gordon Clapp), Bones and House M.D.. She most recently appeared in I am Legend, co-starring with Will Smith.
External links
Edit