Retractable sword
Discuss

2
35,756pages on
this wiki
This page may contain spoilers for

Star Trek Into Darkness

, which won't be released in North America to general audiences until May 16th.
Read at your own risk.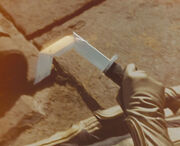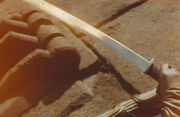 A retractable sword was a hand-held weapon, with a blade that could be retracted by pressing a button on the hilt. When sheathed the blade was entirely contained within the hilt, making it small and compact and easily transported. When released the blade extended rapidly to a length of approximately one meter by unfolding in segments.
In form when fully extended, the sword resembles a Katana, a traditional Japanese sword.
Hikaru Sulu owned one of these and used it on the Narada's drill platform above Vulcan in 2258, to fight off a pair of Romulans. (Star Trek)