Portal:TV and films
Discuss

14
36,867pages on
this wiki
Featured episode or film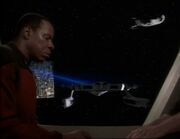 "Emissary" is the premiere episode of Star Trek: Deep Space Nine.
Lieutenant Commander Benjamin Sisko is first officer aboard the USS Saratoga while it battles the Borg led by Locutus, the former Captain Jean Luc Picard, at Wolf 359. When the ship takes a direct hit, which kills most of the bridge crew and causes the start of a warp core breach, Sisko helps civilians get to the escape pods. In the crew quarters he finds his son, Jake, buried under a pile of rubble, but Sisko manages to free him. Sisko also tries to save his wife Jennifer, but she has already been crushed to death by the falling debris. Despite this, Sisko still tries to free her body in vain, and is ultimately dragged away by a crew member to an escape pod. Together with Jake and other survivors, Benjamin flees the doomed Saratoga moments before the ship explodes.
Stardate 46379.1: Three Years Later
Commander Benjamin Sisko approaches Jake, now a teenager, who is fishing in a lake. Jake asks his father questions about the Cardassian space station they're going to and why they can't just live on Bajor, the planet the station orbits. Commander Sisko assures Jake that he will have fun and meet lots of new friends, but they are interrupted by a voice from the bridge, informing Sisko that they are approaching Deep Space 9...
Did You Know the final season of Star Trek: Enterprise was shot almost exclusively on Sony 900 digital cameras, thus making it the first Trek series to be photographed on digital video instead of film. The only scene in the entire season that wasn't shot on digital video was the teaser of "In a Mirror, Darkly", which was shot on 35mm film to better intercut with stock footage from the 1996 movie Star Trek: First Contact.
Recent and Upcoming premieres
Television series
Films
Where to watch
Television
United States

All times EDT

Australia

Brazil

Canada

France

Germany

Hungary

Norway

Poland

Romania

AXN SCI-FI –

TNG

: Mon-Fri 8pm (repeated at 2am and 5am next day) - Currently on Season 6

Slovenia

Sweden

United Kingdom/Republic Of Ireland
---
Online