Portal:TV and films
Discuss

14
38,147pages on
this wiki
Featured episode or film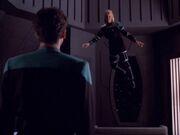 "Melora" was the 6th episode of the second season of Star Trek: Deep Space Nine.
Doctor Bashir and Lieutenant Dax are in the infirmary, testing a wheelchair designed for Ensign Melora Pazlar. Dax expresses amazement that the specifications are even in the replicator's database, saying she hasn't seen a wheelchair in over three hundred years. Bashir reveals that they weren't. It was, in fact, Pazlar herself who had sent him the design, due to the fact that her normal anti-grav unit won't work on Deep Space 9, a situation that Bashir likens to the troubles they had with integrating Starfleet cargo lifts. Before they can discuss it further, Major Kira chimes in over the comm system, informing Bashir that the
Yellowstone
has just docked at airlock 14. The doctor responds, telling her they're on their way, before taking the wheelchair and heading out with Dax.
Did You Know that the original version of the script for "Conspiracy" did not feature alien parasites? The 'conspiracy' in question was simply a military coup within Starfleet, but Gene Roddenberry vehemently opposed such an idea, since he believed Starfleet would never stoop to such methods; thus the alien angle was introduced at his insistence.
Recent and Upcoming premieres
Television series
Films
Where to watch
Television
United States

All times EDT

Australia

Brazil

Canada

France

Germany

Hungary

Norway

Poland

Romania

AXN SCI-FI –

TNG

: Mon-Fri 8pm (repeated at 2am and 5am next day) - Currently on Season 6

Slovenia

Sweden

United Kingdom/Republic Of Ireland
---
Online
| | | | |
| --- | --- | --- | --- |
| United States | | Canada | United Kingdom |