Portal:Star Trek
Discuss

8
37,157pages on
this wiki
Featured production article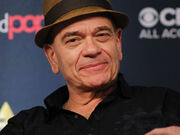 Robert Picardo is the actor best known to Star Trek fans for playing Starfleet's Emergency Medical Hologram, or simply, The Doctor, on Star Trek: Voyager.
Picardo was born in Philadelphia, Pennsylvania on 27 October 1953. He attended William Penn Charter School, graduating in 1971, after which he attended Yale University. While attending Yale, he performed in several University productions and graduated with a BA in Drama in 1975.
In 1977, he made his Broadway debut in a production of
Gemini
, and in 1981, made his feature film debut in the contemporary horror classic,
The Howling
. His other film credits include
Innerspace
,
Gremlins 2: The New Batch
,
Wagons East!
, and more. In addition to his role on
Voyager
, he is also known for playing Dr. Dick Richard on
China Beach
, Coach Cutlip on
The Wonder Years
, and for his role as Agent Richard Woolsey in the
Stargate
television franchise.
Did You Know that celebrities like Ashley Judd, Teri Hatcher, Nikki Cox, Jason Alexander, Tom Morello, Joan Collins, Dean Stockwell, Mick Fleetwood, Kelsey Grammer, Stephen Hawking, Whoopi Goldberg, Iggy Pop, Vanessa Williams, Kirsten Dunst, Andy Dick, Peter Weller, Teri Garr, The Rock, James Avery, Kristanna S. Loken, Mae Jemison, and Abdullah bin al-Hussein have all guest-starred on Star Trek?
People

Onscreen

Unused production material

Planets and systems
Ships