Welcome to Memory Alpha!
Memory Alpha is a collaborative project to create the most definitive, accurate, and accessible encyclopedia and reference for everything related to Star Trek. The English-language Memory Alpha started in November 2003, and currently consists of 38,272 articles. If this is your first visit, please read an introduction to Memory Alpha.
Featured article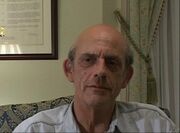 Christopher Lloyd played the role of Klingon Commander Kruge in the 1984 film Star Trek III: The Search for Spock. He is perhaps best recognized for his roles on the television series Taxi and the successful Back to the Future films.
Born in Stamford, Connecticut, Lloyd attended the prestigious Fessenden School in Massachusetts and later Staples High School in Connecticut, graduating from the latter in 1957. Since embarking on a career in acting, he has appeared in over a hundred film and television projects as well as over 200 stage productions, and has become a highly recognized figure in show business.
Lloyd first rose to fame as Reverend Jim Ignatowski on the ABC (and later NBC) television comedy
Taxi
. Lloyd won two Emmy Awards for his role as the lovable, burnt-out Ignatowski, one in 1982 and another in 1983. Coincidentally (as revealed in the episode "Jim Joins the Network"), Lloyd's character was a huge fan of
Star Trek
who resented NBC's decision to cancel the show. However, one of the character's qualms about the series was the male Romulan commander (in "Balance of Terror"), whom he believed "did things no Romulan would ever do."
Editing Memory Alpha
| | | | |
| --- | --- | --- | --- |
| Basic information | About the encyclopedia | Writing articles | Works in progress |
Memory Alpha is not endorsed, sponsored, or affiliated with CBS Studios Inc. or the "Star Trek" franchise.
The
Star Trek
trademarks, logos, and related names are owned by CBS Studios Inc., and are used under "fair use" guidelines.
The user-created content of this site is released under the Creative Commmons "Attribution-NonCommercial" license version 2.5, which can be found
here
. See
Memory Alpha: Copyrights
for more information.