Phyllis Douglas
Discuss

0
35,755pages on
this wiki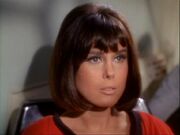 Phyllis Douglas (24 July 1936 – 12 May 2010; age 73) was an actress who played Yeoman Mears in the Star Trek: The Original Series episode "The Galileo Seven". She also appeared as a girl in the episode "The Way to Eden".
Born as Phyllis Callow, Douglas (daughter of famous assistant director Ridgeway Callow) made her feature acting debut at the age of three in the epic classic Gone With the Wind (1939, photographed by Ernest Haller), although she was not credited for her work. She later appeared (again, without credit) in the film Raintree County, which also featured DeForest Kelley. In 1959's Girls Town she played the character Eleanor alongside Elinor Donahue. She also appeared in two episodes of Batman (both with Lawrence Montaigne).
Douglas retired from acting and sold recreational vehicle lots in Palm Springs, California. She passed away on May 12, 2010. [1]
External link
Edit