Michelle Rudy
Discuss

0
38,224pages on
this wiki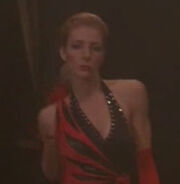 Michelle Rudy (also known as Michelle Rudy-Mirkovich) is a professional dancer and athlete who played a holosuite dancer in the Star Trek: Deep Space Nine episode "Badda-Bing, Badda-Bang".
Rudy has started her career as a dancer on several locations in New York and moved to Los Angeles later. She has performed in music videos for artists such as Prince, Michael Jackson, Rod Stewart, and Billy Idol. She was a performance artist and dancer for Cher for 13 years and appeared on concerts for her around the world. In 1995 she was also a contestant for the "Ms. Fitness USA" title. Rudy has a passion for jewelry design and has founded a company which produce silver jewelry with a touch of gothic architecture. She has mainly contributed these jewelries for rock stars and television productions such as CBS' Rockstar INXS. Rudy is married to musician Paul Mirkovich.
In 1986 she was one of the contestants of the casting show Star Search in the category "dance". David Cowgill was also a contestant at this time but in the category "actor".
On-screen she has shown her dancing abilities in films such as A Chorus Line (1985, with Roxann Dawson and fellow DS9 co-star Michelle Johnston), Dance Academy (1988, with Galyn Görg and Julie Newmar), the David Lynch short film The Cowboy and the Frenchman (1988, with Tracey Walter), and The Big Lebowski (1998, with David Huddleston, Jack Kehler, Mike Gomez, Leon Russom, and DS9 co-star Kelly Sheerin). Rudy was also part of the television series Fame (1986). Star Trek actors Eric Pierpoint, Dick Miller, and Lycia Naff also appeared in this year in Fame.
Rudy has also occasionally acted in the horror film Blood Reaper (2003) and the independent film Six Sex Scenes and a Murder (2007, with Richard Anthony Crenna). For the latter one she also served as choreographer and went by the name Michelle Chantal.
External links
Edit