Memory Alpha:Sandbox
Discuss

11
36,546pages on
this wiki
To use the sandbox, click on edit this page, scroll down to find where to make your changes, and click Save page when you are finished.
The sandbox is for editing experiments only. Feel free to try out your skills at formatting here, where no one will criticize your edits. Note that content added here will not stay permanently.
---
I just add information?
Yes

AlphaWave MemoryAlpha Baise: S:StarDate 18 June2113 Vulcan Nergal Star Chart:
Vulcan often refers to: ◾Vulcan, a major culture and species in the Alpha Quadrant ◾Vulcan (planet), homeworld of the Vulcan species and a member of the Federation ◾Vulcan (alternate reality), homeworld of the Vulcan species in the alternate reality
◾Vulcan language, language of the Vulcan species ◾Vulcan (art), a drawing of a Vulcan ◾Vulcan (island), an island in PlanetEarth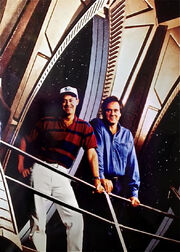 Please'd to add Lwaxana Troi the infamous Mother Troi a Noble Lady with a flair for colour...:
Lwaxana Troi was a Betazoid Federation ambassador and mother of Deanna Troi. She was one of the more colorful Federation diplomats, having led a path of both flamtroyance and "tragedy'. A truly classic character in Theatre HyperSpace, the StarTrak Path of a Noble Star. Lady Ishtar Vulcan welcomes this put:
Blueberr6014
(
talk
) 20:41, August 13, 2013 (UTC)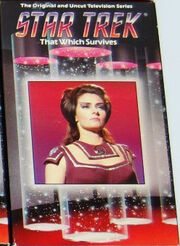 Lwaxana Troi For the mirror universe counterpart, see Lwaxana Troi (mirror). http://memory-beta.wikia.com/wiki/Lwaxana_Troi
BIOGRAPHY

Lwaxana Troi
Lwaxana Ambassador Lwaxana Troi in 2366
Lwaxana Troi was a telepathic Betazoid from the planet Betazed. Lwaxana's titles included Daughter of the Fifth House, Holder of the Sacred Chalice of Rixx, Heir to the Holy Rings of Betazed (Lwaxana would later admit to keeping the Rings in a dusty closet) and Ambassador of the Betazed government.
Lwaxana was wife of Starfleet officer Ian Andrew Troi and mother of Starfleet officer Deanna Troi. Blueberr6014 (talk) 20:41, August 13, 2013 (UTC)