Maxwell Headroom
Discuss

0
37,227pages on
this wiki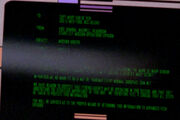 Maxwell Headroom was a Human Starfleet officer in the mid-24th century.
In 2364, he held the rank of vice admiral.
As the commanding officer of Starfleet Mission Operations, he sent a mission order about the testing of the Mark 25 warp sensor to Captain Mary van de Ven of the USS Elmer Fudd.
Later that year, on stardate 41417.3, he denied a request for an additional fuel allotment from the captain of the USS Copernicus.
Later, as the commanding officer of Starfleet Planetary Geosciences Division, he sent a mission order about the exploration of Gamma Argus II to Captain Seth Goldberg. (TNG: "Conspiracy", okudagrams)