Magicam
Discuss

0
36,752pages on
this wiki

Magicam, Inc. was a relatively short-lived company specialized in building miniatures that was located on North Las Palmas Avenue in Los Angeles (Hollywood), California. The company, headed amongst by Robert C. King, Joe Matza and vice-president Carey Melcher, was a full subsidiary of Paramount Pictures, who created the company to maintain full control over filming models. Contracted at the start of September 1977, the most notable contributions of the company were the models built for Star Trek: Phase II and its follow-up, Star Trek: The Motion Picture, most notably that production's refit-USS Enterprise, initially in close cooperation with Astra Image Corporation, the visual effects shop of Robert Abel & Associates, before the latter was pulled from the project. "Even though we were a Paramount company, we had to submit bids just like any outsiders. We were expensive, because we're a[n] union shop, but they knew we could do the work.", Melcher clarified. (Starlog, issue 27, p. 26)
Upon completion of the bulk of the construction work on the models, a number of model builders legally moved over, as did the models, as model handlers to the respective effects houses, firstly Astra and subsequently Entertainment Effects Group (EEG). They also continued with detail work on the the models, mostly additional painting and applying further refined lighting and redesigned elements, usually requested by Douglas Trumbull, the visual effects supervisor.
The company was in existence from 13 February 1974 [1] until 1982, when the shop was closed down and Paramount began using Industrial Light & Magic for the pre-production of Star Trek II: The Wrath of Khan, though, as of 2010, the essentially empty shell company was still listed as one of the subsidiaries of current holding company Viacom. [2]
Prior their involvement with Star Trek, Magicam worked on the effcets for the television shows The Space-Watch Murders and The UFO Incident (both 1975). The only credits of the company after The Motion Picture were Carl Sagan's Cosmos (1980, and that earned the company three Emmy Awards) and the The Greatest American Hero (1981) television shows. Upon closure of the company, several employees moved over to Apogee, Inc., that was also one of companies that worked on the visual effects of The Motion Picture.
Magicam's modelshop staff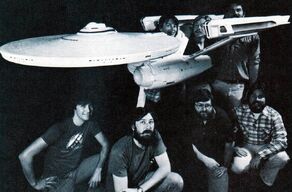 Part of the modelshop team; L-R (top), Swansea, Elliot, Gress, (bottom) Stetson, Schultz, Simpson and Andy Probert (visitor)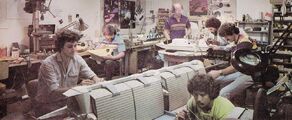 Busy day for Magicam's model makers, now formally part of EEG; L-R, Stetson, Simpson, Scott Farrar (visitor), Ron Gress, Gregg, and Bishop in the lower right
Model makers employed at the time of The Motion Picture:
Larry Albright - Sub-contractor
Peter Anderson - Consultant
David Asher
Bruce Bishop
Brad Bluth
Bob Buckner
Chris Crump
Jim Dow - Model Shop Supervisor
Chris Elliot
Nick Esposet
Lee Ettleman - Machine Shop Lathe Operator
Joe Garlington
Kriss Gregg
Gregory Jein - Sub-contractor
Paul Olsen - Enterprise painter
Rick Gutierrez
Dann Linck
Carey Melcher - Vice President
Chris Miller
Richard Raynis
Chris Ross - Model Maker
Dennis Schultz
Dick Singleton
Mark Stetson - Model Maker
Zuzana Swansea
Rick Thompson
Chris Tietz
George Trimmer
Paul Turner - Model Electronics
Steve Wilson
Further reading
Edit
"The Magical Techniques of Movie and TV Special Effects, Part IV: Magicam", David Houston, Starlog issue 9, October 1977, pp. 62-69
"The Model Makers at Magicam", David Houston, Starlog, issue 27, pp. 26-30
"The Magicam Miniatures Constructed For Star Trek The Motion Picture", James Dow, American Cinematographer, February 1980, pp. 152-155, 178-179, 186
External link
Edit