Jonathan Dixon
Discuss

6
35,765pages on
this wiki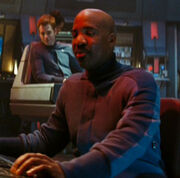 Jonathan Dixon (born 25 October 1965; age 47) is an American actor who often works with J.J. Abrams. Among the work he has done with Abrams is the role of Neville, a weapons officer aboard the USS Enterprise in 2009's Star Trek and Star Trek Into Darkness. [1]
Dixon was born in Los Angeles, California. He is married and has four children. He first began working with J.J. Abrams in 2003, when Dixon was given a minor recurring role as a CIA Officer. He continued working with Abrams on the pilot for Lost in 2004. He made a return appearance on both shows in 2005. Dixon worked with Terry O'Quinn on both of these shows.
Dixon also worked on Abrams' first feature film, 2006's Mission: Impossible III. Several other Star Trek cast members who appeared in this film, including Jeff Chase, Greg Grunberg, Tony Guma, and Simon Pegg. Alumni from previous Star Trek outings had roles in the film, as well, including Ellen Bry, Bruce French, and Tracy Middendorf.
Most recently, Dixon worked with Abrams on the HBO pilot Anatomy of Hope. This project also features Bruce Gray, the aforementioned Tony Guma, Jill Lover, and Mark Rolston. Thus far, Dixon's only known acting credit that was not an Abrams production is the 2005 film Wannabe, which also featured Spencer Garrett.
External links
Edit