Ian Ray
Discuss

0
35,792pages on
this wiki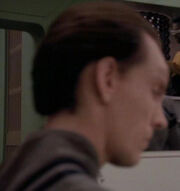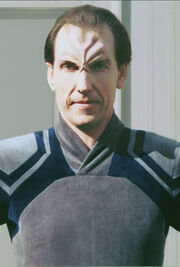 Ian Ray, also known as Ian Ray Hawke, is an actor who appeared as a Tyran technician in the Star Trek: The Next Generation sixth season episode "The Quality of Life" in 1992. Episode director Jonathan Frakes took Gene Roddenberry's principle of biological diversity in alien species very seriously, casting Asian, African American, and Caucasian actors to portray the Tyrans. They vary dramatically in size and, at 6 feet 3 1/2 inches, Ray is the tallest of the Tyrans. As a background actor he received no credit for his appearance.
Mr. Ray has appeared in various television commercials as Count Dracula or other vampires and was featured in the television drama Yesterday Today (1992, with Kevin Tighe), the television movie McBride and Groom (1993), the crime drama In the Line of Fire (1993, with Clyde Kusatsu and Michael Zurich), the Dream On episode "The Homecoming Queen" (1994, with Chris Demetral, Kim Cattrall, and David Graf), the western comedy Wild Wild West (1999, with Musetta Vander, James Lashly, and Ian Abercrombie), the drama Pearl Harbor (2001), the Six Feet Under episode "Crossroads" (2001, with Ed Begley, Jr. and Ed O'Ross), the television comedy Sick in the Head (2003, with Andrea Martin), Talkshow with Spike Feresten (2006), the crime drama Julia (2008, with Saul Rubinek and Jude Ciccolella, and as a Hollywood Boulevard Dracula impersonator on the crime series The Closer (2009).
More recently, Ian Ray was featured in a principal role as a council member in the science fiction adventure John Carter (2012, with Don Stark and Joe Billingiere) and as a psychotic inmate in the drama K-11 (2012, with Tommy "Tiny" Lister, Jr., Franc Ross, and Tim de Zarn).
Mr. Ray has also worked as a body double and stand-in for such actors as Donald Sutherland, John Cleese, Stephen Tobolowsky, and Patrick Bauchau on a number of films including Space Cowboys (2000, starring James Cromwell), The Out-of-Towners (1999), Sneakers (1992), and Panic Room (2002), and on the movie poster for the comedy Rat Race (2001).
External links
Edit