Familial connection
Discuss

15
37,513pages on
this wiki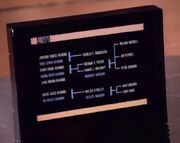 A familial connection is a relationship between people by genetics, marriage, adoption, or an especially strong friendship. In 2376, Seven of Nine and Naomi Wildman said they considered each other family because they were very close friends. (VOY: "Survival Instinct") The study of this relationship is known as genealogy. (VOY: "11:59")
Familial connections vary by species, culture, gender, sexual identity and preference. Denobulans commonly have several spouses, each of which have more spouses, and children by each. Bolian families may likewise be polygamous. (DS9: "Field of Fire")
In 2374, Seven of Nine said the need for familial connections was a weakness. (VOY: "Hope and Fear")
Genetics-based connections
Edit
See Parenting for main article.
Siblings
Edit
List of siblings:

List of full siblings:
List of twins:
List of half siblings:
Children
Edit
Grandparents
Edit
The term "foremother" is used in place by Vulcans for grandmother. (ENT: "Carbon Creek")
The reason for this is uncertain, as both are English words.
List of grandparents:

Jonathan Archer and Esilia, paternal great-grandparents of Karyn Archer (alternate timeline)
Benaren and Martis, maternal grandparents of Linnis Paris (alternate timeline) and maternal great-grandparents of Andrew Kim (alternate timeline)
John Kim and Mary Kim, paternal grandparents of Andrew Kim (alternate timeline)
George Kirk and Winona Kirk

paternal grandparents of David Marcus
paternal grandparents of Peter Kirk
paternal grandparents of two more grandsons

Tiberius Kirk and James, respectively paternal and maternal grandfather of George Samuel and James T. Kirk
Alexander Marcus and Wallace, maternal grandparents of David Marcus
David McCoy, paternal grandfather of Joanna McCoy
Mogh, paternal grandfather of Alexander Rozhenko and Kurn's children
Michael O'Brien, paternal grandfather of Molly O'Brien and Kirayoshi O'Brien
Maurice Picard and Yvette Picard, paternal grandparents of René Picard
Owen Paris, paternal grandfather of Miral Paris
Owen Paris, paternal grandfather of Linnis Paris (alternate timeline)
Tom Paris and Kes, maternal grandparents of Andrew Kim (alternate timeline)
Connaught Rossa, paternal grandmother of Jeremiah Rossa
Sergey and Helena Rozhenko, adoptive grandparents of Alexander Rozhenko
Joseph Sisko and Sarah Sisko, paternal grandparents of Jake Sisko
Skon:
Ian Andrew Troi and Lwaxana Troi, maternal grandparents of Ian Andrew Troi, Jr.
John Torres and Miral, maternal grandparents of Miral Paris
Cyrus
Samantha Wildman and Greskrendtregk, maternal grandparents of Sabrina
Grandchildren
Edit
Other genetic relationships
Edit
List of other genetic relationships

List of uncles and aunts:
List of cousins:
Other:
Other familial connections
Edit
Other non-genetic relationships
Edit
List of other non-genetic relationships:

Tom Paris considered himself the fictive "uncle" of the Repto-humanoid hatching.
List of step-relatives:
List of in-laws:
List of godparents:
List of surrogate parents:
Background
Edit
Real life connections
Edit
Following Star Trek performers and production staff members share a real life familial connection: