Golden Gate Bridge
Discuss

3
35,791pages on
this wiki
The Golden Gate Bridge was a suspension bridge in San Francisco, California, built in the 1930s. It spanned the Golden Gate, the border between the San Francisco Bay to the east and the Pacific Ocean to the west. The bridge was one of the most iconic symbols of San Francisco.
During their visit to 1986 San Francisco, Admiral James T. Kirk and Spock rode a bus over the bridge. Upon their return from that year, their captured Klingon bird of prey HMS Bounty nearly crashed into the bridge. (Star Trek IV: The Voyage Home)
After they were thrown back in time to the year 2024, the sight of the bridge confirmed to Benjamin Sisko and Julian Bashir that they were in San Francisco. (DS9: "Past Tense, Part I")
The Golden Gate was visible from Starfleet Academy (TNG: "The First Duty", "Time's Arrow"; VOY: "In the Flesh"; Star Trek) and was pictured on its logo.
The bridge was also visible from the office Admiral Leyton occupied before his attempted overthrow of Federation President Jaresh-Inyo. (DS9: "Homefront", "Paradise Lost")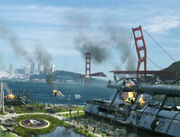 The bridge was heavily damaged during a Breen attack on Earth in 2375, during the Dominion War. However, within a year the damage to the bridge, and the city, had been repaired. (DS9: "The Changing Face of Evil"; VOY: "Pathfinder")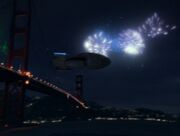 In 2394 of an alternate timeline, the USS Voyager performed a "victory lap" over the bridge. (VOY: "Endgame")
The bridge was also imperiled in the alternate reality's 2258 when the Narada fired its drilling beam at Earth next to the bridge, right over the inlet of San Francisco Bay. When the rig's tether was destroyed and the drilling platform fell, it barely missed hitting the bridge. (Star Trek)
Background
Edit
The Golden Gate Bridge has only once been mentioned in dialog by name, in "Past Tense, Part I", but is seen in virtually every establishing shot of San Francisco. Coincidentally, the one time it was mentioned by name was one of the times it was not seen in an establishing shot of the city.
The only time that Star Trek actors have visited the real Golden Gate Bridge for production purposes was during Star Trek IV: The Voyage Home when William Shatner and Leonard Nimoy rode across the bridge on a bus. The words "Golden Gate" are also spoken during the film, but in reference to Golden Gate Park.
External link
Edit