Gary Kerr
Discuss

0
36,775pages on
this wiki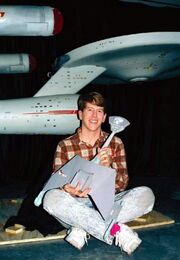 Gary Kerr was credited as a "Technical Consultant" to the production of the remastered version of Star Trek: The Original Series and part of the CBS Digital team. A previous involvement with Star Trek concerned his fabrication of detailed construction blueprints of the original USS Enterprise at the behest of his friend Gregory Jein for construction of the 5.5 foot studio model for the DS9: "Trials and Tribble-ations" episode. He was able to this because he was present five years earlier at Ed Miarecki's model shop, Science Fiction Modelmaking Associates, to whom he was introduced by David Merriman, Jr. (who had also introduced him to Jein), when the former was engaged in the 1991 restoration of the original studio model for the 1992 Star Trek Smithsonian Exhibit. For his personal edification Kerr made numerous photos and measurements. The blueprints that resulted from those, also served as the basis for the CGI model, built at CBS Digital, used in the remastered series, and which has earned Kerr his official credit.
Kerr's intimate acquaintance with the original Enterprise studio model, was not only a valued sought after commodity for the franchise, but was also solicited by model kit manufacturer Polar Lights, who hired Kerr as a consultant for their design of the 2012 highly detailed 1:350 scale model kit, No. POL880, of the vessel (being the same size as the original three-foot studio model). Jamie Hood, Polar Lights brand manager, has stated, "Gary's involvement in the new kit design has been a tremendous asset. His extensive knowledge has allowed us to add intimate details to the model. This kit will be the most accurate representation of the ship produced since the original filming model." [1]
Starting in 2012, Kerr has written a four-part article for the UK magazine Sci-fi & fantasy modeller that chronicled in detail his personal involvement with the USS Enterprise NCC-1701, including his experiences with Miarecki, Jein, CBS Digital and Polar Lights.
External link
Edit