Post from Catan GmbH
36,873pages on
this wiki
Forum page
Forums → Ten Forward → Post from Catan GmbH
(reply • watch)
My name is Gero Zahn, I write this comment as a representative of Catan GmbH, the company behind behind the famous board game "The Settlers of Catan".
Last year, kind of with me at the helm, we created and published a Star Trek crossover game called "Star Trek Catan". It is placed in the Star Trek TOS era, adding the Original Series bridge crew as "helper characters" to the themed, but otherwise unchanged "Settlers of Catan" base game.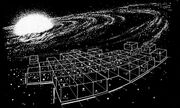 This year, again with me steering the wheel, we created a game expansion called
"Star Trek Catan – Federation Space"
. To do this, we used the "Explored Galaxy" map as a template to transport the the game into a "real" region of space … that is, as real as it could get, coming from a
(sigh)
fictional universe.
After we were able to indeed license the map from CBS for our purpose, as they liked our approach very much, we knew that we had struck gold. It was so much fun to bring this map (back) to life and now be able to actually play "The Settlers of Catan" on it. As I keep putting it: These are the voyages of the Starship Enterprise -- they simply are. :)
If you would like to see what we did, perhaps you'd like to read the two blog posts that I wrote about it over at catan.com:
As proud as I am of this game, I certainly didn't just want to bluntly edit it onto the respective Memory Alpha page, not knowing the right way to do it, or how much this would actually be appreciated.
Do you guys think it should be added?
Thanks!