Casting for main characters of The Next Generation
35,794pages on
this wiki
Forum page
Forums → Ten Forward → Casting for main characters of The Next Generation
(reply • watch)
This forum discussion has been archived
This forum discussion has been archived and should not be added to. Please visit the Forums to begin a new topic in the relevant location.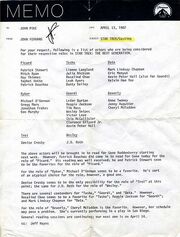 I found this interesting site that is hosting a scan of an audition list for the primary characters of
Star Trek: The Next Generation
.
http://www.lettersofnote.com/2010/08/star-trekcasting.html
Interesting names in the list, to me, are Wesley Snipes and Tim Russ for the role of Geordi. Hopefully someone here can use this. — Morder (talk) 05:24, June 15, 2011 (UTC)