Edgar Wright
Discuss

1
36,872pages on
this wiki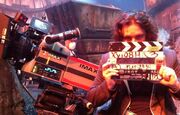 Edgar Howard Wright (born 18 April 1974; age 40) is an English film and television director and writer, best known for his collaborations with actor and writer Simon Pegg. He visited the set of Star Trek Into Darkness and directed a shot for the film.
Wright's first collaboration with Pegg was on the 1996 TV series Asylum: the two teamed up again on the TV series Spaced, which broadcast from 1999 to 2001. The two reunited for the 2004 romantic zombie comedy Shaun of the Dead, the 2007 action comedy Hot Fuzz, and 2013's The World's End, collectively known as the "Three Flavours Cornetto trilogy" or "Blood and Ice Cream trilogy".
Wright's other notable projects include the 2010 comic book adaptation Scott Pilgrim vs. the World, writing the 2011 film version of The Adventures of Tintin, which also featured Pegg, and the Marvel Comics adaptation Ant-Man, due for release in late 2015.
External links
Edit