Dennis McCarthy
Discuss

3
38,279pages on
this wiki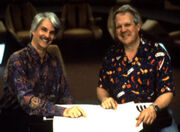 For the costumer with the same name, see Dennis McCarthy.
For the USS Voyager crewman, see Dennis McCarthy (Crewman).
For the Starfleet captain, see Dennis McCarthy (Captain)
Dennis McCarthy (born 1945) is a composer who has written many Star Trek-related musical scores, including the Star Trek: Deep Space Nine main title theme and the Star Trek: Enterprise end credits theme. He also composed the music for Star Trek Generations and many episodes of Star Trek: The Next Generation, Star Trek: Deep Space Nine, Star Trek: Voyager and Star Trek: Enterprise. He scored the pilots and finales of Star Trek: The Next Generation, Star Trek: Deep Space Nine and Star Trek: Enterprise. McCarthy also wrote and conducted the music for the Star Trek: The Experience movie Borg Invasion 4D and the computer game Star Trek: Borg. Some of McCarthy's TNG and DS9 scores were released as part of the Star Trek: The Next Generation Collection, Volume One and the Star Trek: Deep Space Nine Collection.
McCarthy was nominated for nine Emmy Awards for his work, winning in the "Outstanding Individual Achievement in Main Title Theme Music" category for his Deep Space Nine title theme. He also won (or shared) nine ASCAP Awards, all for "Top TV Series" except for his award for Star Trek Generations, which won in the "Top Box Office Films" category.
McCarthy was once a member of Dick Dale's backing band, which came up while he was scoring the episode "Vis à Vis" which featured two Dick Dale tunes, "Night Rider" and "Let's Go Trippin'". Ronald B. Moore suggested the first song and remembered, "I was told that [McCarthy] heard the music and said, 'I used to be a Deltone.' This is a small world. He suggested that they close the show with another Dick Dale song. They got to [do that]." (Cinefantastique, Vol. 30, No. 9/10, p. 103)
McCarthy started his career as music arranger and moved shortly after this to the position of music composer. His first assignment was the television spinoff series Enos (1980-1981), followed by the series Private Benjamin (1982), Gun Shy (1983), Goodnight, Beantown (1983-1984), and The Barbara Mandrell Show. In early 1984, McCarthy was asked to redo the score for the second and the third part of the television mini series V: The Final Battle, just two weeks before the airdate. His successful scoring for V: The Final Battle including the "Visitor March" lent him to the assignment scoring the following television series V (1984-1985) as well as projects such as Trapper John, M.D. (1986), The Love Boat (1986), Mike Hammer (1986), The Colbys (1985-1987), The Twilight Zone (1986-1987), Dynasty (1985-1989), Falcon Crest (1989), and MacGyver (1985-1991).
Star Trek credits Edit
Awards for Star Trek Edit
McCarthy received the following awards and nominations for his work on Star Trek:
Star Trek interviews Edit
External links
Edit