Boston
Discuss

3
36,853pages on
this wiki
Boston was a city in Massachusetts.
Boston was home to the baseball team known as the Red Sox in the 20th and 21st centuries. (DS9: "For the Cause")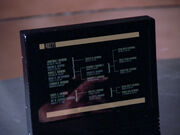 In 2027, Charles W. Raymond, the son of Jonathan F. Raymond and Marina S. Despina, was born in this city. (TNG: "The Neutral Zone")
This information came from the remastered Clare Raymond family tree. Charles W. Raymond was named after Charles Winchester, a character from the dramedy M*A*S*H. This character was from Boston.
In 2376, Commander Peter Harkins' wife Angie had a sister from Boston that was visiting San Francisco; Harkins suggested to coworker Lieutenant Reginald Barclay that he may like to meet her. (VOY: "Pathfinder")
Literature
Edit
In Dangerous Ground, Doctor John Rawley left Fairbridge, Berkshire County, to attend a state medical convention in Boston. After the convention ended, the doctor returned to Fairbridge. (TNG: "The Big Goodbye")
The pages seen in the episode were from the mystery novel,
Dangerous Groud
, by author Frances Sil Wickware. This novel was published in 1946. Information on Boston was from page 72.
External links
Edit