Bajoran civil police
Discuss

1
35,770pages on
this wiki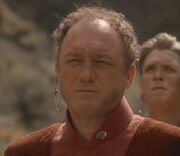 The Bajoran civil police were a law enforcement agency on the planet Bajor.
In 2371, the Dahkur Province civil police issued a province-wide arrest warrant for Shakaar Edon and Kira Nerys after they refused to return several government-owned Soil reclamators. Shakaar and Kira managed to elude the police for two weeks by hiding in the Dahkur Hills. They eventually trapped the pursuing authorities, led by Colonel Lenaris Holem, in a canyon where the two sides agreed that having survived the Cardassian Occupation, they weren't about to start fighting Bajoran against Bajoran. (DS9: "Shakaar")
Judging by their uniforms, it is possible that Odo and his deputies were also members of the Bajoran civil police.