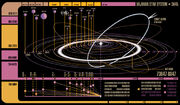 Bajor XIII was the thirteenth planet in the Bajoran system. This system was located in the Bajor sector, which was a region of space in the Alpha Quadrant. (Star Trek: Deep Space Nine set decoration)
According to the script for "Emissary", the pronunciation for Bajor was "BAY-jor". [1]

The Bajor system was a single star system. B'hava'el (Bajor) was a

G class star

with a magnitude of +5, which was the same brightness as

Sol

.